Hoo boy, I really need to get serious about finishing up my reverse bigbang, like, now.
Day Five: Favorite female character on a male-driven show: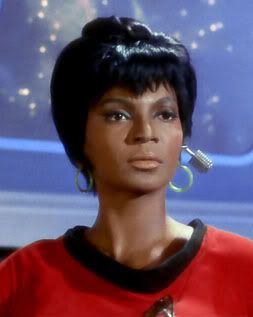 Nyota Uhura from Star Trek
This feels like a gimme question - one of the easiest to answer of the whole list. (Why, yes, I planned out my answers for each day - how else would I assure no repeats, I ask you?)
I grew up watching TNG and DS9, mostly, but TOS reruns were also watched, and I always liked Uhura for at least
being
on the testosterone-heavy Enterprise. Looking back now, I love her for being pretty kick-ass for a female character of that time and also for the absolute daringness of being the first interracial kiss on television - only a
year
after anti-miscegenation laws had been struck down by the Supreme Court in
Loving v. Viriginia
. (Yeah, it took until 1967 for it to be legal throughout the US to marry someone of a different skin tone.
Loving Day
is coming up - June 12th!)
Zoe Saldana was a great casting choice for the reboot, but Nichelle Nichols will always be Uhura for me.
( A couple of pieces of Uhura media )
( Rest of the days )