jactrades
See
the entry for Volume 1
for the reason behind this mix, but, really, do you need a
reason
for a mashup mix?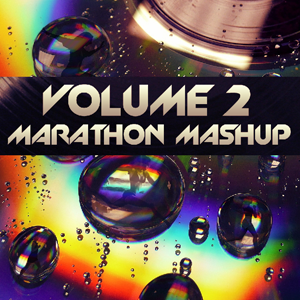 Track List:

01| Party Ben - Smells Stronger
Nirvana vs. Daft Punk - This was one of the first mashups I ever heard and I still love it.
02| The Hood Internet - Houdin-o-mite
Taio Cruz vs. Foster The People - Foster The People's most beat-riffic track with Taio Cruz's hella fun Dynamite.
03| Mashup-Germany - I'll Be Missing You (Don't Raise Your Glass)
Pink vs. Mike Posner vs. Puff Daddy feat. Faith Evans vs. Kelly Clarkson vs. Black Eyed Peas vs. Tracy Chapman vs. Le Chic vs. Daft Punk vs. Sportfreunde Stiller - Nine songs with plenty of clever little nods spread throughout.
04| Marc Johnce - Word Up This Way
Lady Gaga vs. Korn vs. Cameo - BootieMashup calls this the gayest song you'll ever hear Korn doing - and yeah, it's goddamn fabulous.
05| DJ Schmolli - Sweet Sweet Dreams
Eurythmics vs. Recover Project/La Bouce - More than just a clever title, this mashup is just drenched with fun.
06| Higi Banjo Strings - The One Who Changed The Way I Love
Example vs. R.E.M. - R.E.M. with all of the classic electro sweeps and rises.
07| Party Ben - Ooh La La Summer Nights
The Wiseguys vs. Olivia Newton John & John Travolta - Dude. Dude. What's better than jamming to John Travolta?
08| Mashed And Confused - I Can't Stand Tik Tok
The Police vs. Ke$ha - I can't even. This might be better than the TOS Star Trek Tik Tok vid.
09| DJ Earworm - Bad Ego
Michael Jackson vs. Alter Ego - Because it's not a proper mashup mix without some solid MJ beats.
10| DylanVasey - Love Takes Over On A Friday Night
David Guetta vs. Katy Perry vs. LMFAO - Some fluffy pop to ease us into the next song.
11| Titus Jones - Never Givin' Up My Only Barbie
Aqua vs. Rick Ashley vs. Madonna vs. Rihanna - Haters to the left - this genre is, first & foremost, about having fun.
12| MixmstrStel + DJ Tripp - Where Dem Moves At, Judas?
David Guetta vs. Lady Gaga vs. Maroon 5 and Christina Aguilera - Catchy, poppy, move-your-ass fun.
13| DJ Fox - Come See About Down
Jay Sean vs. The Supremes - Easing down a bit from the sugar pop with an old classic from The Supremes
14| team9 - When You Were a Starlight
The Killers vs. Muse - A perfectly executed mashup that sounds like it could be played on your local alt radio station.
15| DJ ShyBoy - She Works Hard For The Lights
Ellie Goulding vs. Donna Summer - Two great female vocalists, one an old favorite, the other just now breaking into the US
16| Titus Jones - Hello Girl, Let's Party Til The End
Martin Solveig feat. Dragonette vs. Britney Spears vs. LMFAO feat. Lauren Bennett and Goon Rock vs. No Doubt vs. Sum 41 vs. Vanilla Ice - Titus Jones is one of the best at seamlessly working in old favorite pop tunes with newer, more hip stuff, as this track illustrates.
17| Envision - Boys & Girls Fight With Fire
Scissor Sisters vs. Good Charlotte - A mashup that truly surpasses both of the individual tracks.
18| Phil RetroSpector - Killing Kids
Echo & The Bunnymen vs. MGMT - Another beautiful A vs. B juxposition
19| Titus Jones - Oops, I Shot Jolene's Mom
Taio Cruz vs. Bon Jovi vs. Britney Spears vs. Dolly Parton vs. Foutains of Wayne - All good picks for a mashup, but the Dolly Parton is particularly inspired.
20| DJ Prince - Hey We Will Rock Ya
Outkast vs. Queen - An old mashup classic that doesn't ever get old.
21| Wax Audio - Maiden Goes To Bollywood
Iron Maiden vs. Sinidhi Chauhan - Genre clash much? But it totally works!
22| LeeDM101 - (Find Myself) A Heap Of Love
Imogen Heap vs. Depeche Mode vs. Florence & The Machine - A gorgous slow piece to finish off the mix.
Like all of my running mixes, this album goes up in tempo from ~120 to ~200 BPM (with a cool-down song at the end). Total running time is just a bit over 90 minutes.
zipped mix at megaupload or sendspace
And for more mashup fun:
volume 1 track list here
volume 3 track list here